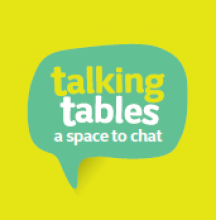 Talking Tables brings people together that are happy to chat.
Anyone can sit at a Talking Table.
A Talking Table is somewhere for people to sit if they want to start or join conversations with each other.
How to spot a Talking Table -
look out for a window sticker at participating venues in Hull
spot the Talking Tables sign on a table inside
Current venues
Acorns Children's Centre Café, Nestor Grove, Hull, HU9 4DB
Age UK, Porter Street, Hull, HU1 2RH
Bean and Nothingness, 62 Whitefriargate, Hull HU1 2HU
The Olive Branch café, Bodmin Rd, Hull HU7 4HE
Bransholme Library, Goodhart Road, Hull HU7 4EF
Cafe One 11, Newland Ave, Hull HU5 2ES
Coffee 31, Waltham Street, King Edward Street HU1 3SL
Flavours Café, Endeavour Learning & Skills Centre, Beverley Rd, Hull HU3 1UR
Fred Moore Library, Wold Road, Hull HU5 5UN
Friendly Neighbourhood Café, Hull HU9 4JU
Garden Village Tearoom, The Clubhouse Community Centre, Elm Ave, Hull HU8 8PZ
Greenwood Avenue Library, Greenwood Avenue, Hull HU6 9RU
Gipsyville Library, Hessle Rd, Hull, HU4 6JA
Harrison Park, Hall Road, HU6 9DQ
Hull KR Heritage Hangout, KCOM Craven Park, Poorhouse Ln, Hull, HU9 5HE - Third Thursday of the month 1-3pm
Hull Truck Theatre, Ferensway, Hull, HU2 8LB
Humber Street Gallery, Humber St, Hull, HU1 1TU
Ings Library, Savoy Road, Hull HU8 0TY
Lydia's, Newland Ave, Hull HU5 3BE
Parade 94 Cantina, The Octagon, Walker Street, Hull, HU3 2RA
Plug in Hull, Storey Street, Hull, HU1 3SA
Redwood Glades, Leads Road, Hull, HU7 0BY
St Margaret's Welcome Centre, Shannon Road, Hull, HU8 9PD
The Artisan Coffee and Art, Newland Ave, Hull HU5 2AL
The Blue Whippet Café, Hessle Road, Hull, HU4 6QE
The Jean Bishop Integrated Care Centre, David Lister Dr, Hull, HU9 2BL - Wednesday and Friday 10am-1pm
The Pennine, Pennine Way, Hull HU7 5EH
Trinity Market, Trinity house lane, Hull, HU1 1RS
Western Library, Boulevard, Hull HU3 3ED
If you would like to find out more information, please email publichealth.hull@hullcc.gov.uk.